Web site design - Portfolio
We have created websites for many diverse businesses and would be only too pleased to quote on your requirements. Please Contact Us for a competitive quote for web site design or redesign, web site hosting, search engine optimisation (SEO), search engine submission or other requirements.
Below is a small selection of websites designed and developed by Dacan Internet. We work to all budgets and specifications from single page websites to complex, bespoke web applications.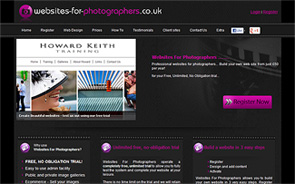 Websites For Photographers is a service developed to allow users to build their own website quickly and easily. You can view sample websites below.
Although this service was developed with photographers in mind we have a diverse range of businesses using the system from accountants, flower arrangers and landscape Gardeners to tai chi instructors and even a funeral directors.
A simple wizard guides you through the initial design process where you can choose and edit a theme and create the standard pages. You then have full control over design and content.
Please register for a free trail here.

Websites created using the system:
www.zvezdaphoto.co.uk/
www.vaughanives.co.uk
www.danieldevinephotography.com
www.colinmasonphotography.co.uk
www.creativeglamour.co.uk
www.jhmaw.co.uk
www.claireharrisweddingphotography.co.uk
www.antheabarneyphotographer.co.uk
www.kpsfinance.co.uk
www.weddingphotographerkent.co.uk
www.ultissima.co.uk
www.micksheldon.co.uk
www.keyimagephotographers.co.uk
www.roadkillmusic.co.uk
www.krissoulphotography.co.uk
www.alldayphotography.co.uk
www.photoness.co.uk
www.silentexpressions.co.uk
www.andrewdesmond.co.uk
www.cake-wishes.co.uk
www.richardclaytonphotographer.co.uk
www.davedrydenphotography.co.uk
www.alanthomasphotography-hull.co.uk
www.howardkeithtraining.co.uk
www.fancycakesbyrachel.co.uk
www.infinitetaichisalford.co.uk
www.davidmillsdigitalimaging.co.uk
www.sammonsphotographers.co.uk
www.helenisaac-photography.co.uk
www.ga-photography.co.uk
www.cassiusfphotography.com
www.jpaweddingphotography.co.uk
www.broadoakfunerals.com
www.together-now.co.uk
www.mjphotography100.co.uk
www.mattlambertphotography.co.uk
www.lookphotography.co.uk
www.chrislordanphotography.co.uk
www.jollymediaproductions.co.uk
www.shotinbelfast.com
www.myworldimages.co.uk
www.malkinphotography1.co.uk
www.josephinecoote.co.uk
www.bride-groom.co.uk
www.garyperryphotography.com
www.baselightimages.co.uk
www.andrewreesphotography.co.uk
www.wps-photography.co.uk
www.wybornphotography.co.uk
www.leedsweddingphotographers.com
www.zcphotography.co.uk
www.reellifephotos.co.uk
www.kewzbarhuddersfield.co.uk
www.dreamspace.me.uk
www.danielsteelsphotography.co.uk
www.hkphotography.co.uk
www.darrenguyphotography.co.uk
www.premsarikonda-photography.co.uk
www.harrisonphair.co.uk
www.imaginerium.co.uk
www.chrisgreavesphotography.co.uk
www.ukgolfday.co.uk
www.bencranke.com

---
---
---
---
---
---
---
---
---
---
---
---
---
---
---
We also carry out SEO work on any website, please Contact Us if you would like us to give a free assessment and quote on our seo and traffic building services.
If you are looking for a website similar to any of these or would like a quote on something completely different, please contact us with your requirements.